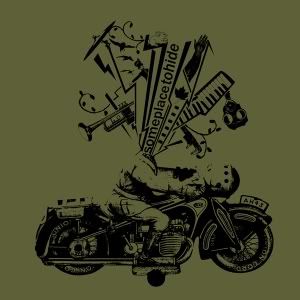 www.myspace.com/someplacetohide
from: Oklahoma, U.S.
genre: Screamo / Hardcore / Experimental
Someplace To Hide was a band from Oklahoma City that played heavy, melodic
screamo
in the vein of
Neil Perry
or
City of Caterpillar
. Their first record, Shouting, "Saintly, Not Ghostly!", came out in 2006 on Dead City Records. In 2007, the band released a 3-way split with
Steeples
and
Damezumari
on Little Mafia Records.
-Someplace To Hide-
Shouting, "Saintly, Not Ghostly! (2006)
audio: 224-320 kbps
1. Daniel Vs. Daniel
2. Happy Doesn't Have Red Eyes
3. My Second Favorite Part Of Conversation
4. The Champion Seeps Into The Tiles Never To Be Heard From Again
5. This Social Without Words
6. Tigers Are Aggressive, Deer Are Gentle
7. Untitled
8. Untitled #2
9. Your Handwriting Is Better Than Mine

¯¯¯¯¯¯¯¯¯¯¯¯¯¯¯¯¯¯¯¯
-Someplace To Hide/Damezumari/Steeples-
3 Way Split (2007)

audio: 128 kbps
Damezumari myspace
Steeples myspace
Someplace To Hide
1. throwing in the towel
2. a terrible thing to waste
3. a fantastic planet, indeed
4. half full
5. above the clouds
Damezumari
6. triumphalism
7. every friday buries a thursday
8. the mark on the wall
9. snazziest ever
10. a bitter means to a better end
11. gravity is a choice
Steeples
12. 1919
13. there is no end
14. patriarch
15. orion
16. stravensky
17. in-sound translation
18. of the hour

¯¯¯¯¯¯¯¯¯¯¯¯¯¯¯¯¯¯¯¯